The New Year is the ideal time to heal from sundry festive excesses. Here is where to go to detox in style… Wellness World has hand-picked the best retreats from around the globe to help you do just that.
Described by many as 'a hidden gem' of Koh Samui Island, this wellness centre was created to enhance your wellbeing from the inside out.
Recuperate from the stresses of daily life with expert yoga practice and relaxing spa treatments, or reach optimal health through one of their detox programmes. A typical Detox Programme at Samahita Retreat includes an Ayurvedic herbal detox formula developed in-house;
Yoga practices and breath work; Yogic cleansing techniques; infrared sauna therapy; Chi Nei Tsang – therapeutic abdominal massage; 'Body & Soul' therapies; Fibre, probiotic and superfood supplementation; specially developed Ayurvedic body oils for Abhyanga massage; specific foods, fruits, broths, juices and teas; as well as an optional liver and gall bladder flush-detox.
The LifeCo, a smart detox retreat is run by qualified medical staff. As one of the top retreats worldwide, it's the leading retreat of its kind in Turkey, famous among many A-list celebrities. The resort provides a 360° holistic approach that includes anti-ageing and wellbeing therapies, preventative treatments for chronic diseases and cancer, pampering and beauty treatments, as well as spiritual therapies, all in the same complex. The Basic Detox Program will leave you cleansed and feeling lighter and includes live blood analyses, one Turkish scrub and foam massage, two massage therapies, electro lymphatic therapy, colon hydro therapy, wheatgrass enema, ozone therapy, two sodium inhaler therapies, general facial treatment and an immune cocktail.
During your week at Yeotown, one of UK's top wellness centres, you will change the way you eat; you will have hiked many miles in all elements, discovered new levels of self-discipline and developed a new appreciation of nature and the great outdoors.
Although Yeotox can be both physically and mentally challenging, it is also inspiring, informative, invigorating and nurturing. Within a few days you will start to feel lighter, more clear-headed and feel more energy.
A sample day of the Detox week includes two to three hours of coastal hiking; fitness/strength training or core workout; mindfulness and meditation; cycling; nutritional chats and cookery lessons; yoga inspired stretching for all levels; cooking session; deep tissue massage and dry sauna and/or hot tub reading, relaxing, unwinding by a roaring fire or watching the sunset in the picturesque gardens.
Over the past 20 years this resort has been promoting the ancient teachings of Ayurveda to international visitors.
The aspiration of its creators was to provide Ayurveda, Yoga and meditation in a peaceful and captivating setting; hence the resort was built in a tropical garden. The accommodation is in the traditional style of southern India, and most of the bungalows offer a breath-taking sea view. Early risers have the opportunity to witness Indian culture at first hand – for instance, by accompanying fishermen from the neighbouring village as they haul in their nets.
The Slimming Programme at Somatheeram, offers a range of traditional Ayurvedic treatments designed to help you shed the unwanted weights – medicated herbal powder massages and herbal oil massages – both soothing and beneficial for overall wellness.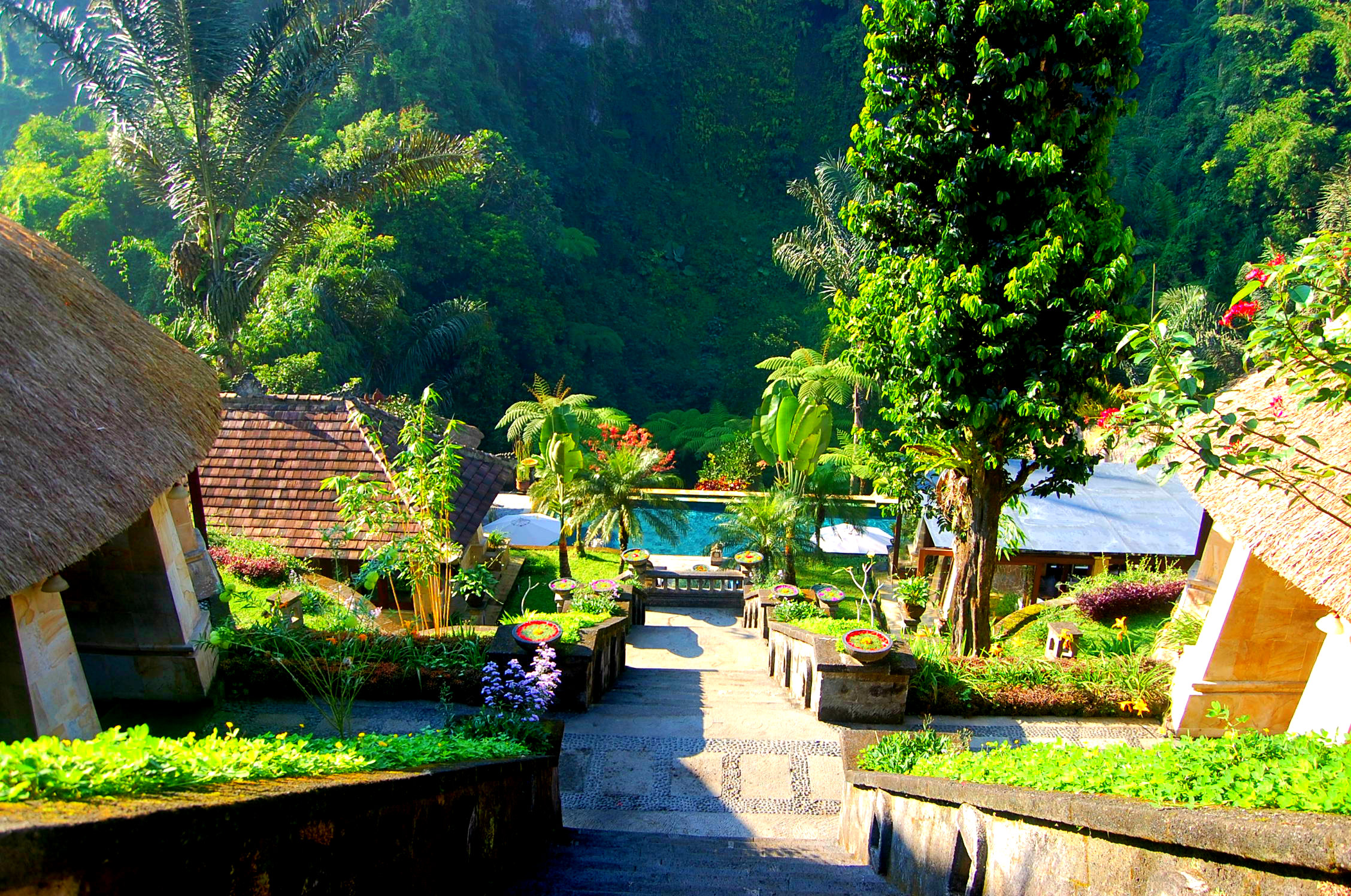 This wellbeing resort on the Island of Gods is set within five hectares of hillside gardens amongst lush tropical forests in the mountains of Ubud. Boasting organic gardens and a gourmet restaurant, guests imbibe the true spirit and grace of Asian inspired traditional healing.
The programmes on offer are varied: Nutrition, Detox, Yoga, Meditation, Stress Relief, Anti-ageing Programmes, Nature Trekking as well as Healthy Cooking Workshops. Their signature Detox Retreat includes a special detoxifying diet carefully designed by Bagus Jati's detox specialist.
Body treatments include Acupuncture and lifestyle counselling perfect for men and women who appreciate preventive healing and the benefit of 'detox time.' IN ADDITION Detox Educational and Motivational session; Detox Assessment; Chinese medication: Yoga, Rejuvenation body massage, Detoxifying Combination Spa treatments; Detoxifying spa treatments to choose from including Balinese massage, Slimming body mask and wrap, Javanese massage to name a few.