'Unveil Your Best You' ahead of the Annual Celebrations this Winter. This month, Wellness World has researched top global destinations to help you get radiant for the festive season. Lose weight, get fit and let your skin shine. Look your very best and avoid piling on the pounds at this celebration-intensive time.
#01. MesaStila, Java, Indonesia
Best for: Getting fit at your own pace and exploring local culture
MesaStila is an ideal destination for personal growth and wellbeing as well as cultural and historical exploration. Set within 22 hectares of outstanding natural beauty, enveloped by highland- air, mountains, tropical gardens, this wellness getaway is only 45 minutes away from the world renowned Borobudur Temple.


To feel fabulous in time for Winter… Try a Fitness and Weight Management programme suitable for any level. This package encourages a sustainable approach to long-term weight management and improved wellbeing. Improve your body shape and muscle tone, build strength, develop cardiovascular fitness, lose fat, enhance balance and coordination with traditional martial arts, Yoga, hiking and biking in the jungle to revel in nature. The 5-night programme includes a wellness appraisal and retreat plan, healthy meals, daily choice of wellness activities, access to Hammam, steam- bath, daily massage, and private fitness training.
www.mesahotelsandresorts.com/mesastila
---
#02. Sukhavati, Bali, Indonesia
Best for: Traditional Ayurveda on the island of gods
Nestled in two acres of tropical forest, Sukhavati Retreat is a world-class luxury wellness destination specialising in Ayurvedic healing to purify the body and mind, promote peak performance, rejuvenate vitality and maintain optimal health. This estate is an ideal setting for relaxation and rejuvenation; the eight gorgeous villas are spread out over lush sprawling gardens to ensure utmost privacy.
The 7-day Refresh Programme is designed to support your body's natural healing ability. Embrace a new sense of wellbeing; leave feeling refreshed with a new level of energy and happiness to set you on your path to perfect health.
The package incorporates healthy Ayurvedic meals, personalised Ayurvedic consultations as well as seminars on Ayurvedic lifestyle and diet. On each day of the programme benefit from 90 minutes of Ayurvedic treatments prescribed specifically to you and tailored by the Ayurvedic doctor.
---
#03. Ananda in the Himalayas, India
Best for: Gold-standard Ayurveda in the Himalayas
Located in the tranquil Himalayan foothills, overlooking the Ganga river, this resort leaves guests enthralled by its surroundings and the excellent lifestyle services based on traditional Indian wellness regimes of Ayurveda, Yoga as well as Vedanta.
The Ananda Ayurvedic Rejuvenation is a personalised package that includes stimulating and purifying therapies, daily yoga and meditation as well as a Dosha-specific Ayurvedic diet. Reduce stress, improve health or simply delay the ageing process indefinitely.
The programme comes in 7, 14 and 21 night options and includes individual wellness and fitness consultations; ongoing progress checks with doctors, rejuvenation meals, daily use
of the hydrotherapy facilities and scheduled spas.
---
#04. Lumeria Maui, Hawaii
Best for: Immersing into Hawaiian traditions
Lumeria Maui is a stunning twenty-acre private destination retreat, nestled between the historic plantation towns and enveloped by world-renowned beaches, famous surf spots,
and Maui's best biking and hiking trails. Featuring stunning ocean and island vistas, this historic property has been updated into a luxurious as well as serene sanctuary for authentic transformational travel.
This is an all-inclusive destination catering to those seeking exploration, wellness and learning in an elegant setting that plays homage to the culture and traditions of the region.
Activities are aplenty – try a traditional healing Hawaiian Lomi Lomi massage, a Hawaiian harvest foraging excursion, become a Cowboy for a day exploring nearby Piiholo Ranch; do a private horse ride; or practice paddle boat yoga rising with the sun to get your 'Zen' on for the whole day.
---
#05. Kamalaya, Koh Samui, Thailand
Best for: Achieving your fitness goals
For those in the know, this award- winning resort hardly needs much presentation. Not many might know though that Kamalaya is centred around a cave that once served Buddhist monks as a place of meditation. The wellness programmes have been carefully structured and offer solutions for detox, stress, fitness and weight control.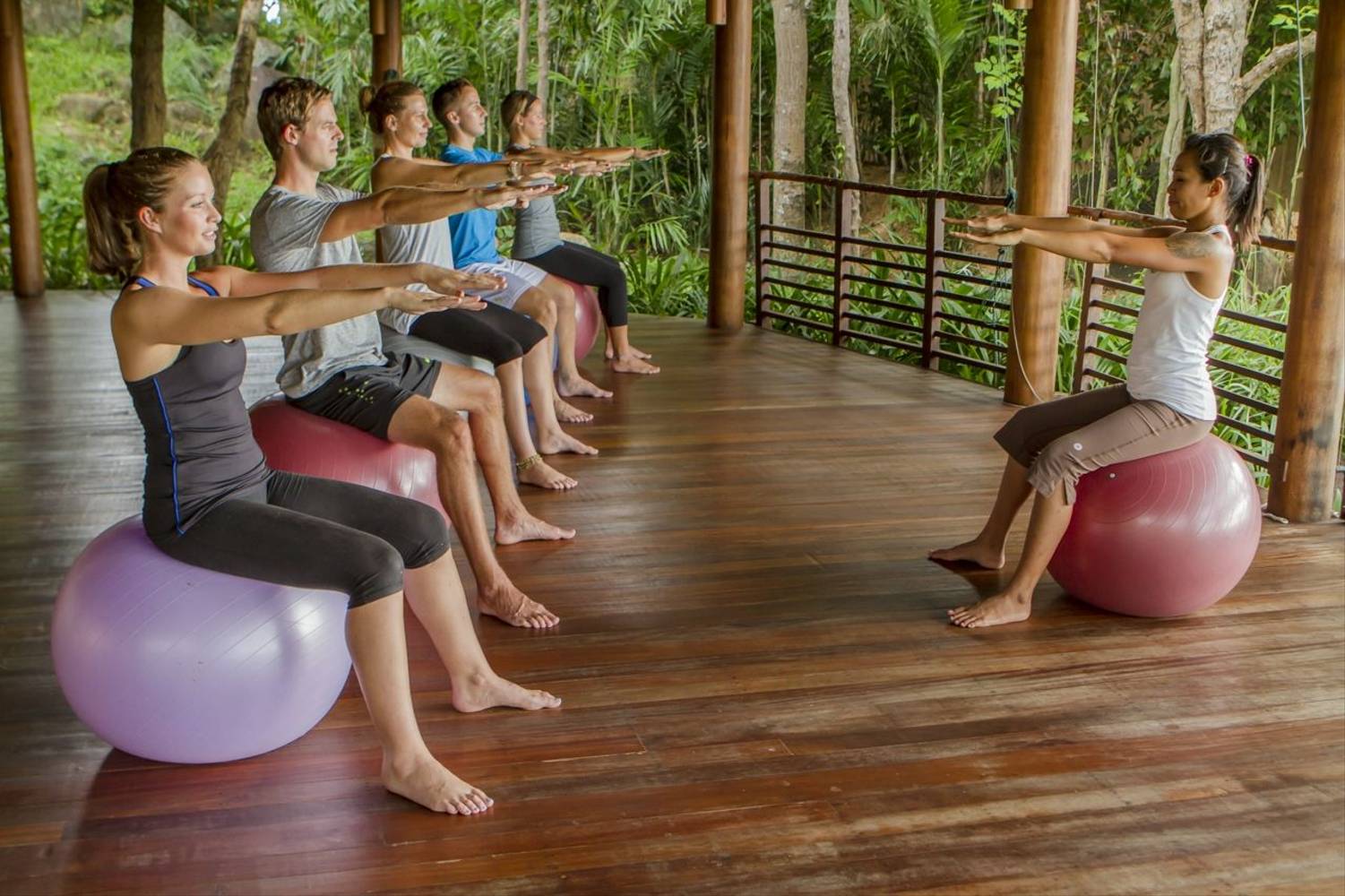 The Optimum Fitness Package is a tailored program created to help people achieve their fitness goals with personal instruction and guidance from a Kamalaya fitness expert. With holistic spa therapies and three personal training sessions, infrared sauna sessions, vital essence oil massage, traditional thai massage, and lymphatic drainage therapy.
---
#06. Maalifushi by Como, Maldives
Best for: A getaway to paradise
Among Maldives island hotels, Maalifushi stands apart with its understated style, encapsulating the true spirit of the Indian Ocean.
The luxuries are all here, with the world-renowned Como Shambhala spa, top yoga facilities and exceptional cuisine. With overwater villas and beach suites, Maalifushi is the ultimate getaway destination for families, couples, surfers and divers. Recuperate and feel fabulous under the expert guidance of COMO's expert holistic therapists.
Enjoy your signature facials, massages and body treatments as well as holistic therapies in overwater treatment rooms. Try the signature COMO Shambhala massage, a nurturing treatment employing long, soothing strokes.Practice yoga daily in an open-air yoga pavilion or work out in the gym enjoying breath-taking and awe-inspiring ocean views.
Strengthen your entire body with water-based activities and learn everything you ever wanted to know about the life in the ocean with the help of the in-house marine biologist.
www.comohotels.com/en/maalifushi
---